Wired: Hi-tech innovations designed to simplify our home life

Joanne Hatherly Times Colonist
Photos by John McKay, Times Colonist

Home > Company News Archive > This Story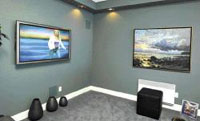 The plasma TV looks much like a picture hanging on the wall. Such high-tech toys can cost several thousand dollars.
Sadly, it does not mean that you can call home and ask the oven to start cooking dinner. Yet.
Until that happy day, homeowners lusting after the simple life through technological advances that make their homes function smoother can satisfy their appetite with other state-of-art toys.
And the starting place for the state-of-the-art-hungry shopper is in the house walls, not in the store. "Most houses in Victoria have the older Cat3 wiring," says Vickers. "To be ready for the present and upcoming home technologies, houses should be smart-wired with Cat5."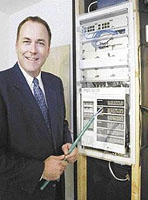 John Vickers, president of Bay Systems with distribution box.
Smart-wiring, also known industrially as structured wiring, runs multi-media cables and ports throughout the house, including two Category 5e and two quad-shielded RG6 cables.
"This readies a home for today and the future," says Vickers. The best time to put in smart cable is at the construction stage, when the cost runs at about one per cent of the whole-house construction value. Retrofitting an existing house adds another .4 per cent of whole-house construction cost to the price tag.
But what about those inevitable technological advances that make today's systems effectively obsolete?
"While a smart wiring system takes us right to the edge of the current technological horizon," says Vickers, "it's wise and inexpensive to prepare for what will come after." Vickers recommends homeowners and builders install "raceways" of PVC piping from the attic to the ceiling throughout the home.
"That minimizes the need for punching through drywall when new technologies come," says Vickers. "Installers can feed the new wiring through the piping."