Smart Wiring
Home > Smart Wiring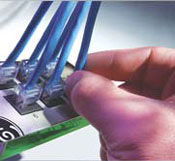 You wouldn't think twice when it comes to basics like indoor plumbing. You also shouldn't think twice about wiring your home for the technologies of today and, even more importantly, what's coming in the very near future!
Unfortunately, many new homeowners in British Columbia inadvertently have low speed telephone/data wire installed in their residences - wiring that has been around since the 1950's!
One industry group suggests that new homeowners budget approximately one percent of their new homes value to wiring infrastructure. Remember, it is easy to add any number of new systems or even things like Internet enabled appliances to your home in the future - as long as the wiring is already there.
The primary reason for having your home properly wired during construction, is that you avoid the added expense and bother of having to disturb dry wall to install wire into the core of your home later.
Remember that having a digitally ready home can significantly contribute to your home's re-sale value in the future!